The Mission to Digitize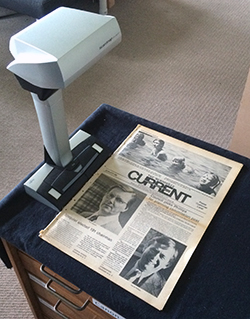 Although issues of the CURRENT had been stored in the local library for years, we learned they had almost never been used.
We quickly realized that, living in the internet age, we could make them available to anyone, anywhere, and any time. All we needed was a way to digitize them for viewing on the web.
During early research we discovered we weren't the first to embrace this potential. A web search quickly led us to the inspiring story of Tom Tryzinski (link). Tom is the founder of fultonhistory.com, the result of his pioneering digitizing work as an amateur. He's a hero for outdoing government agencies.
To make long story short, we experimented with scanners, cameras, and microfilm. We talked to lots of folks in the "history game" about our mission. Most (but not all) thought it was a great idea but were unable to help. Ordinary scanners weren't up to the challenge, couldn't give us the needed quality.
It seemed to us that most of the hi-resolution scanning is done by government, the healthcare industry, and insurance companies. They seem to have big budgets, and the prices of what we needed were astronomical! (During one phone call we were quoted $83,000; in another "only $23,000."
Finally, when technology prices came waaaay down, one of our founding members purchased the scanner needed for newspapers. With loving care we scan one page at a time. It's a labor of love.
If you would be interested in helping us scan, not only the newspapers, but thousands of other photos and documents, please contact us by email!